Here's a quick tutorial on placing a Leafly Pick-up order on our website.
Welcome to Bask! For the safety of our patients and staff, pre-orders are required prior to entering the building. Orders may be placed on our website from 10am – 5pm daily. Follow this quick tutorial on how to place a Leafly Pick-Up order for Bask. The process is simple and orders will be ready to be picked up within minutes.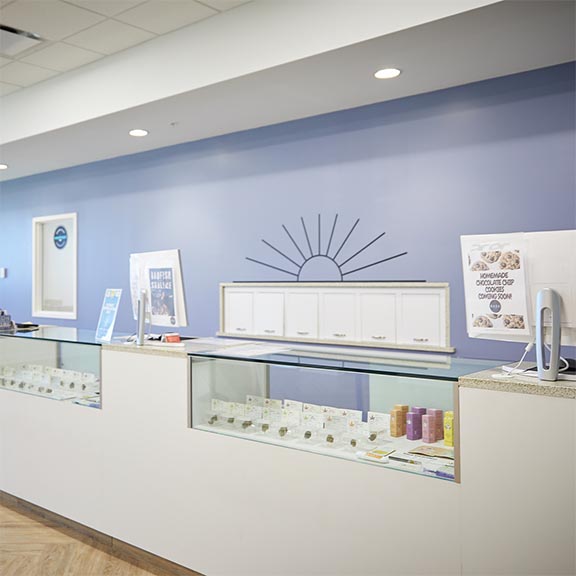 Click the 'Menu' tab on our website.
The 'Menu' tab will bring you to our Leafly menu page. On this page, you can view products with descriptions and pricing, sales, and reviews. The menu can be filtered to make finding products even easier. We've also added a 'Staff Picks' section to show you what products our staff currently recommend. Once you've decided on the products you'd like to purchase, add them to your shopping bag.
Review your shopping bag.
When you're ready to complete your order, you'll have a chance to review your shopping bag. Please note that sales prices and patient discounts are not reflected on the Leafly Pick-Up menu. All discounts will be added by our dispensary team at Bask prior to completing your purchase.
Sign in or create your Leafly account.
Before completing your purchase, you will be prompted to either sign in to your existing Leafly account or create a new account by clicking/tapping the 'Join Us' link. Set-up is quick and easy. Once you've created your Leafly Pick-Up account, your information will be auto-saved for future pick-up orders.
Complete your Leafly Pick-Up order.
Orders will be accepted daily from 10am-5pm. Please note that system settings do not allow orders to be placed prior to 10am. Once your order is complete, you'll receive a text message on the phone number you provided in your Leafly account to let you know that your order is ready to be picked up. Orders must be picked up the day they are placed. Any orders not picked up prior to 6pm will be cancelled and a new order will need to be placed the following day.
Come to Bask to pick up your Leafly Pick-Up order.
Once you receive a text that your order is ready to be picked up, you're ready to come to Bask! Please have your pick-up confirmation, patient/caregiver ID, and government issued ID with you at the front door. An order confirmation is required for entering the building at this time. If you place an order and you don't receive a text within 30 minutes, please call 774-305-4749.
New patients and patients with questions.
Patient education is extremely important to us at Bask. If you are a new patient or if you have any questions about our menu, cannabis product dosing, etc., please do not hesitate to give us a call. We have a team of Patient Education Specialists who are happy to speak with you and make sure you are able to make an informed decision prior to placing your order. Please call us during regular business hours 10am-6pm to schedule a complimentary phone consultation or to ask any questions. We're here to help!
Please Consume Responsibly. This product may cause impairment and may be habit forming. Marijuana can impair concentration, coordination and judgment. Do not operate a vehicle or machinery under the influence of this drug.
This product has not been analyzed or approved by the Food and Drug Administration (FDA). There is limited information on the side effects of using this product, and there may be associated health risks. Marijuana use during pregnancy and breast-feeding may pose potential harms. It is against the law to drive or operate machinery when under the influence of this product.
KEEP THIS PRODUCT AWAY FROM CHILDREN.
There may be health risks associated with consumption of this product. Marijuana can impair concentration, coordination, and judgment. The impairment effects of edible marijuana may be delayed by two hours or more. In case of accidental ingestion, contact poison control hotline 1-800-222-1222 or 9-1-1. This product may be illegal outside of MA.